Shop By Category
Open/Close Filters by clicking heading
Select Telehandler Tires By Size
Find the best pneumatic (air) and solid telehandler tires. Below are selections of the most common telehandler tire sizes. Click on the sizes to see what tire options we offer. For a full list of tire sizes, see the chart at the bottom of the page.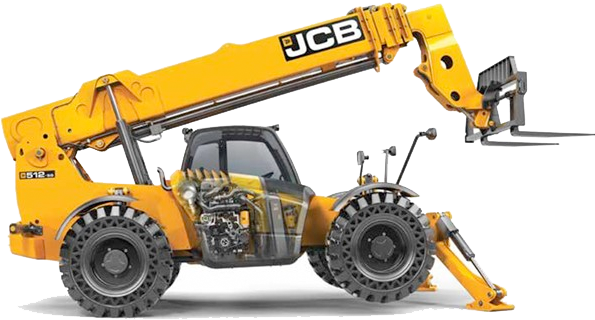 What is a telehandler?
Telehandlers are widely used in the construction, commercial installation and film industry. They function much like a forklift but is more a crane than forklift, with the increased versatility of a telescopic boom that can extend forwards from the vehicle.
Telehandler Solid tire advantages include:
Downtime minimal (bolt-on)
OEM Wheel Assemblies
More usable rubber
Single stage construction
Several rubber blends
Advanced aperture structure improves ride
Industrial Tire Load Index, Speed Ratings and Radial Star Ratings
Industrial Tires often have a load rating and speed index in the description. This standard information helps define each tire's abilities across models and brands.
Load Index Chart
Speed Rating Chart
Star Rating v. Ply Rating
Selecting the Right Tires for your Telehandler

top
While tires are not likely the first thing you think about when choosing a telehandler, you should review your options to ensure you get the right type for the typical application and budget. Tires will impact your telehandler's reliability, the total cost of ownership and affect your job site performance and ride comfort.
Air-filled pneumatic telehandler tires
As the least expensive telehandler tire option, air-filled pneumatic tires are the lightest and provide the best overall floatation when working in soft ground conditions. They will also provide the operator with the best overall ride comfort.
However, those qualities do come at a cost, especially when working at sites with a lot of construction debris like nails, screws, rebar and other material that could puncture the tire, which is a pretty common place at most job sites. No one profits from downtime.
Urethane Foam-filled pneumatic telehandler tires
Urethane foam can be added to a pneumatic tire anytime during the life of a set of tires; however, we recommend at least 80% (or more) tire life remains before adding to the tires. Foam will add additional weight to the machine and affect its performance and floatation. Most operators say foam-filled tires perform better on rough, unimproved terrain because of the added weight. The chance of getting a flat tire on the job is also greatly reduced, but keep in mind, foam-filled tires are still susceptible to damage, especially sidewall damage.
Solid telehandler tires
Solid rubber tires are growing in popularity. They last anywhere from 4-8 times as long as a pneumatic tire, and they make downtime caused by a flat tire a thing of the past. This makes them an ideal fit for building sites with a lot of construction debris. However, the tradeoff is that solid tires are more rigid than urethane foam or air filled tires, which will impact the ride comfort for the operator. Also, the added weight of the rubber will adversely affect a telehandler's floatation in soft ground conditions.
Telehandler Tire Capacity

top
Load Capacity
Size
Tread
OD (in.)
Section Width (in.)

9 mph (lbs.)

16 mph (lbs.)

25 mph (lbs.)

Weight (lbs.)
Click on size for tire options offered
Pneumatic Tires
12.50x80-18
G2/L2
37.7
11.5
.
.
5200
95
13.00x24
G2/L2
51.1
14.4
14330
.
6005
161.2
14.00x24
G2/L2
53.9
15.7
13889
.
6780
183.4
15.5-25
G2/L2
52.3
17.2
11488
10496
8644
159.0
17.5-25
G3/E3
55.3
19.4
13561
11532
9493
257.0
370/75-28
L3/E3
50.2
14.6
12015
.
.
193.75
400/75-28
L3/E3
51.6
15.6
13228
.
.
193.75
Solid Rubber Tires
13.00x24
G2/L2
50.8
13.0
15322
14054
.
615
14.00x24
G2/L2
53.4
13.9
16942
15542
.
704

Data may vary by manufacturer and compound. Information is provided as a general guide only. If size is not listed, please call toll-free 604-265-1118.
Solid Vs. Urethane Foam Tires

top
Telehandler solid assembly tire advantages (over pneumatic polyurethane filled) includes:
Minimal machine downtime (bolt off / bolt on)
Better chucking resistance –pneumatic casings are prone to ripping if sidewall is impaled
More usable rubber
Much more tire life (2X - 3X)
Recycling easier –wheel & rubber easily separated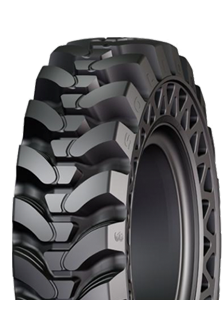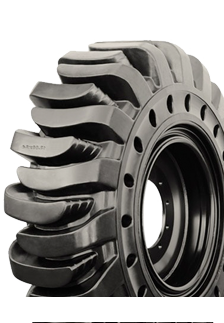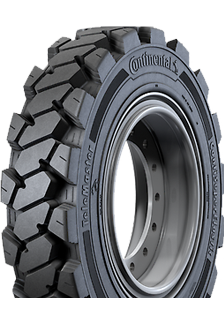 Product availability may vary by country
Jobsite damage to foam tires often reduces tire life with loss of usable tread ...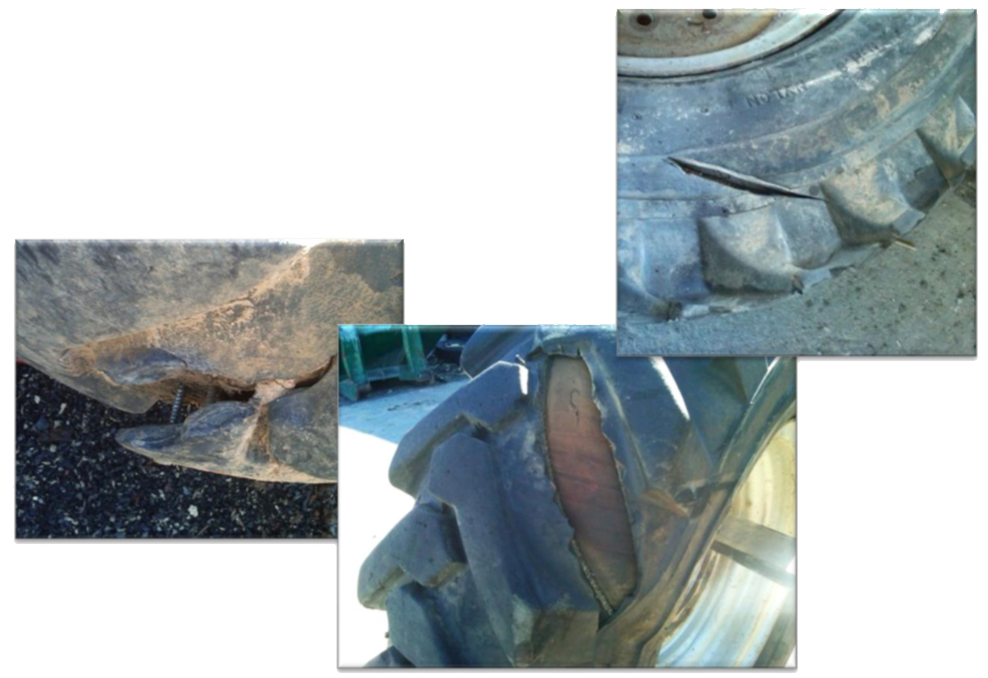 ... leads to

downtime

, frustrated customers and

reduced profit

.
Benefits of Solid Rubber Telehandler Tires

top
Upgrading to a set of solid rubber telehandler tires can deliver benefits for both your fleet and your business in general. These include:
Significantly reduced downtime




The main cause of downtime for telehandler operation is a flat tire. Solid rubber telehandler tires will completely eliminate all downtime caused by flat tires. This reduction in downtime notably increases your profit during the lifespan of the machine.

Improved stability




Stability is key to a telehandler's ability to reach high places.

Solid tires are heavier that pneumatic tires and this weight is down low on the machine's centre of gravity for improved stability.
Part of stability is maintaining correct air pressure in all four tires —Solid tires have no air, so they are always even.

As a result, you'll be able to maintain safety while still taking on tough jobs that require working at height.

Longer lifespan




Solid rubber telehandler tires have more rubber and a deeper tread than conventional pneumatic tires. If a solid tire is damaged by a foreign object (likely a fence post flange), you may cut or chuck out a small amount of rubber while continuing on with the job, while pneumatic tire will go flat, and most likely need to be replaced. A single set can be counted on for over 5,000 flat-free hours between changes, minimizing downtime for your fleet and helping you stay productive.

Cost-effective performance




Between their lower maintenance requirements, longer life and improved versatility, solid rubber telehandler tires are one of the most cost-effective options in the industry.
---
Buy on-line or talk with a knowledgeable industrial tire & track specialist: