Both rubber and polyurethane press-on tires have unique qualities that make them more appropriate in certain circumstances and application. This page will help you select the best press-on tire for your application.
Polyurethane Press-on Tire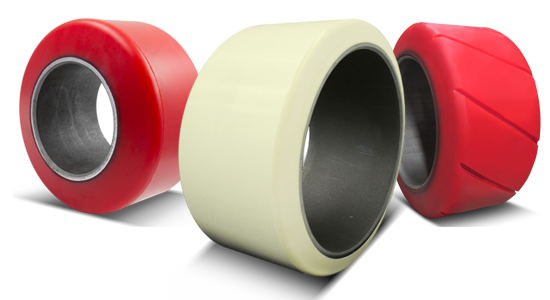 Polyurethane is a totally engineered plastic material, which exists in various compound mixes. Different compounds, hardness (durometer) and even grooves or sipes provide a wide range of solutions to specialized applications.
Advantages
High load capacity
Longer tire life
Specialized hardness (durometer) for wider range of applications
Lower rolling resistance; longer battery time
Higher cut and tearing resistance
No floor marking
Higher chemical resistance even after long term exposure
Widest range of sizes
Disadvantages
Tends to flat-spot when encountering floor debris
Heat dissipation and high speed leads to more bond failures
Not great for outside operation
Rubber Press-on Tire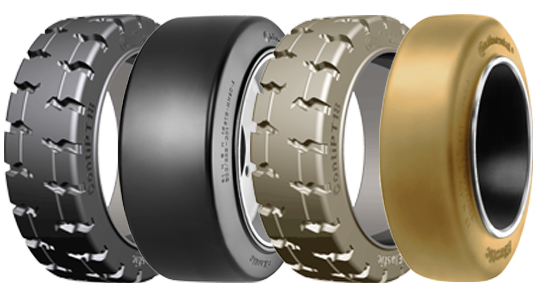 Premium rubber press-on tires are all natural rubber which disipates heat more efficently and provides longer running duration. Mid-grade and economy rubber press-on tires are a mix of natural rubbers and other compounds such as plastic. Non-premium tires are designed for lower costs and provide a lower duty cycle as the compound mixes do not dissipate the heat as well as all natural rubber tire.
Advantages
Less expensive
Able to absorb floor debris and irregular surfaces
Better traction on wet surfaces
Better heat dissipation (premium are best)
Good outside operating if surface is flat and smooth
Lower vibrations
Disadvantages
Lower load capacity
Black tires mark floors. Premium black tires produce less floor marking. Non-marking compounds help.
Low chemical resistance, especially petro-based chemicals
Reduced size variations
Compare the Load Capacity
Below is the load capacity comparison between polyurethane and rubber press-on (cushion) tires for common sizes. For more sizes, click on the Poly Press-on and Rubber Press on pages.
Load Capacity (6 mph (lbs)
Size

Polyurethane

Rubber

9x5x5
3020
2116
10x4x6-1/2
2490
1720
13-1/2x5-1/2x8
4740
3335
16x5x10-1/2
4760
3325
16x6x10-1/2
6040
4205
16-1/4x5x11-1/4
4800
3365
16-1/4x6x11-1/4
6050
4225
18x8x12-1/8
9470
6625
21x7x15
9050
6340
21x8x15
10604
7455
22x12x16
17760
12450
28x12x22
21280
14900

Data may vary by manufacturer and compound. Information is provided as a general guide only. If size is not listed, please call toll-free 604-265-1118.
Buy on-line or talk with a knowledgeable industrial tire & track specialist:
Polyurethane Compounds
Standard

–General usage applications

Soft

–Wet and cold storage applications and an excellent tire for applications with lots of floor debris

Hard

–Extra Load, high speed and long duty cycle.
top