Select Skid Steer Tires By Size
Find the best pneumatic tires for your skid steer. Below are selections of the most common pneumatic skid steer tire sizes. Click on the sizes to see what tire options we offer. For a full list of tire sizes, see the chart at the bottom of the page.
Skid steer tires By Make/Model
---
Skid Steer Pneumatic Tire Specifications
5 mph
10 mph
Size
PR
Tread
OD (in.)
Section Width (in.)
Load Capacity (lbs.)
Weight (lbs.)

Click on size for tire options offered

570 x 12
6
R4
22.3
7.0
1455
1146
16.1
23 x 8.50-12
6
R4
22.4
8.5
1819
1433
22.5
23 x 8.50-12
10
R4
23.2
9.1
2447
1940
28.7
23 x 8.50-12
12
R4
23.1
9.1
2723
2161
28.7
26 x 12-12
8
R4
25.5
12.1
3020
2381
46.5
27 x 10-12
14
R4
27.7
10.8
7815
7088
52.2
7.00 x 15
6
R4
31.8
8.8
3175
2513
44.1
27 x 8.50-15
8
R4
27.0
8.3
2447
1940
27.6
31 x 15.5-15
8
R4
31.0
11.5
3726
2954
76.7
10 x 16.5
6
R4
30.0
10.8
3505
2778
47.4
10 x 16.5
8
R4
30.0
11.0
4134
3263
47.8
10 x 16.5
10
R4
30.4
10.9
4718
3726
50.7
12 x 16.5
8
R4
32.5
12.6
4806
3792
62.8
12 x 16.5
10
R4
32.5
12.3
5357
4233
63.7
14 x 17.5
12
R4
35.9
13.7
7826
6173
109.8

Data may vary by manufacturer and compound. Information is provided as a general guide only. If size is not listed, please call toll-free 877-895-1118.

▮ Denotes most common sizes.
top
Selecting the right tire for your skid steer loader
Skid steer loaders are the jack of all trades for compact equipment machines. This versatility however can presents a tire selection challenge.
Tires are the most expensive consumable item on a skid steer loader, so it pays to due a little tire research before shopping. Choosing the correct tire for the application will maximize your machine's performance, and minimize your tire investment. But, don't assume one tire fits all applications. Many operators may find it best to have several tire options and select the best tire for the application.
For example, you wouldn't want to run pneumatic tires in a scrap yard full of flat-causing metal debris, nor would you run a solid skid steer tire in loose material.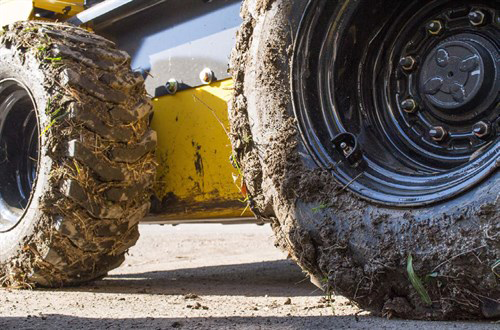 ---
Buy on-line or talk with a knowledgeable industrial tire & track specialist:
To ease the selection process, you should ask yourself a 3 questions before buying or replacing tires.
1. What Is Your Application?
Choosing the right tire for the your long-term application allows future cost savings. If your skid steer does the same functioning day after day, then this is straight forward and you only need to look for one or two key factors when comparing tire specifications. But what if your skid steer usage changes constantly? It is important for a operator to understand surface conditions, kinds of loads, what they are carrying and how is the equipment going to be used and who's going to be driving the machine.
2. How Can You Optimize Your Tire Investment?
To achieve the lowest operating cost solution and optimum tire choice, there's a host of considerations to evaluate. Premium tires are made to work in the toughest of off-the-road applications and are designed to address different operational needs. Improving performance in one area usually means a trade-off in another.
Top 10 Performance Factors
Surface conditions -loose, hard pack, asphalt?
Tread Choice -R4, R5, Non-directional
Inflation pressures -low pressure wears faster
Duty cycle -constant running & heat buildup
Speed -can the tire cool down?
Ambient temperature -heat destroys tires
Road maintenance; Debris -flat-proof?
Machine maintenance; Service cycles -plan for replacing tires
Attachments & bucket size - weight heats tires
Tire make & model -choose best tire for application & budget
3. How Can A Tire Reseller Help You In This Process?
In addition to understanding the equipment and the application, the most important decision for a skid steer operator is to choose the right tire reseller. Work with a reseller who knows construction tires (not just a car tire guy), knows your operation and understands your budget. Develop a good working relationship and engage in feedback on how the tires operated on the equipment and your application.
Pass on your objectives:
Are you intolerant of flat tires?
Traction issues?
What's your budget?
Do you want to have the longest lasting tires on the market or do you just want cheap, round and black?
If the reseller has a thorough understanding of your objectives, then they can recommend the best option for your needs.
top