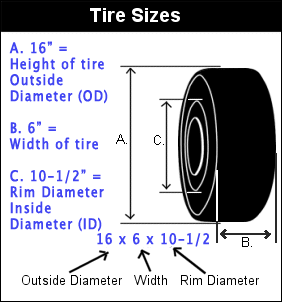 Sometimes when speaking to customers, they are unable to read the tire size on the side of the tire; The tire may be worn beyond the recommended minimal outside diameter (OD), or the tire may have been damaged and it is no longer readable.
We can usually lookup the unit history by the unit number or the serial number if Cascadia Industrial Tire has previously installed the tires, or we can use a number of other references to lookup the standard tire size for that make and model of forklift.
Be aware that sometimes the standard tire size is not installed on the machine. Customers may have previously installed a wider tire to attempt to make a forklift more stable, or switch a narrow aisle forklift from polyurethane to rubber. Also the last tire vendor may have installed the closest tire size they happened to have in stock. Whenever possible, try and replace tires with the correct tires recommended by the manufacturer so the equipment specifications and engineering are correct.
As long as we can get two of the three dimensions, we can normally estimate the third. The outside diameter (OD) is ever changing as the tire wears and this is normally the measurement we are tying to estimate. Luckily the width and inside diameter (ID) does not change and we can make an educated guess on the OD.
STEP 1 - MEASURE INSIDE DIAMETER (ID)
For a cushion tire, we need to measurement across the hub centre INSIDE the steel band edges (the rubber is bonded to the steel band). The most popular ID sizes are:
Typical Inside Diameter (ID) - Cushion Tires
6-1/4"
6-1/2"
8"
10-1/2"
11-1/4"
12-1/8"
15"
16"
17-/3/4"
22"
STEP 2 - MEASURE WIDTH
For a cushion tire, we need the measurement the width of the tire from the edges of the steel band and not the rubber. The most popular sizes are:
Typical Width - Cushion Tires
4-1/2"
5"
6"
7"
8"
9"
10"
12"
STEP 3 - DETERMINING THE OUTSIDE DIAMETER (OD)
Cushion tire sizes are made up of three numbers: OD x Width x ID
For example, if the ID is 10-1/2" and the width is 6" this gives us: OD x 6 x 10-1/2
If you go to Cushion Press-On page, it will have a listing of all the standard cushion tire sizes. If we look down the first column and look for the ID of 10-1/2 (last number) we will see we now have a small range of options (16 x 5 x 10-1/2, 16 x 6 x 10-1/2, 16 x 7 x 10-1/2).
Now apply the width and it only gives us one option: 16 x 6 x 10-1/2